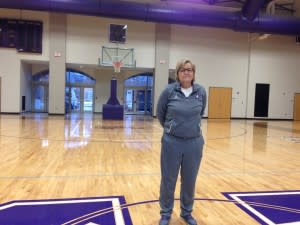 There's a lot of history in the office of Capital University's Dixie Jeffers, including the basketballs from her 500th and 600th career wins and the championship rings from the two NCAA Division III Women's National Championships the Crusaders have won.
And now, Dixie and Capital are about to add more history, as they prepare to host the NCAA Division III Women's Basketball Semifinals on March 19.
"I have so much passion for the game and appreciate all my experiences and everything that so many people have done for me along the way," said Dixie, 57. "I'm in my twilight years as a coach and I wanted to give something back."
In the twilight of her career?
Hardly, as Dixie still has a long way – and a lot more wins – to go before she calls it a career. But hosting the Div. III semifinals are indeed a career highlight for the venerable coach and the start of a three-year run in which Central Ohio will be at the center of NCAA women's basketball.
Ohio Dominican University will host the NCAA Division II Women's Basketball Elite Eight and National Championships on March 21-24, 2017 at Alumni Hall. Ohio State and Nationwide Arena will host the NCAA Division I Women's Basketball Championships on March 30 and April 1, 2018.
Greater Columbus Sports Commission officials believe this is the first time a city/region have hosted NCAA Division III, II and I championship events for women's basketball in successive years.
"We want to show (the basketball world) that we care about women's basketball here in Bexley and Columbus," Dixie said, adding the run could continue past 2018. "The NCAA asked us to bid again, for 2018. But that's the year the Division I Final Four is here, so we'll hold off biding for that year. We will bid for it again, as early as 2019."
Hosting the Division III semifinals is a lot of hard work and requires organization, a dedicated committee, and an experienced leader. Dixie is the tournament director, Capital Athletic Director Steve Bruning is the tournament manager and Assistant Women's Basketball Coach Andrea Preston is assisting them.
"The hardest thing has been juggling this and our season," Dixie said. "We've had constant collaboration with the NCAA and the WBCA (Women's Basketball College Association). We also rely on Eric Archibald at the Sports Commission. Whenever I need something, I call Eric and he gets it done."
Dixie has also received some help from her friends at Ohio Dominican. Officials from university the have sat in on meetings to discuss everything from tickets, parking, signage, logistics, transportation, hotels, and special events. Ohio Dominican will help Capital this year – and Capital will assist Ohio Dominican in 2017.
This NCAA is trying something new this year, and Indianapolis will host the Division I, II and III Championship Games. Dixie and her team are preparing a semifinal experience for the players of the four teams that advance that includes all the bells and whistles – and special events – of a Final Four.
The three-day series of events kicks off with a social event at COSI on Thursday, March 17. "The players will get a police escort from the hotel to COSI," Dixie said.
Each team is scheduled for a practice session on Thursday and Friday, each team will host a clinic for Special Olympic athletes and attend a luncheon for the Special Olympians. The schedule also includes team photos, press conferences, a meeting for coaches and administrators – and two exciting basketball games (the first at 5 p.m. and the second at 7:30 p.m.).
"People will see really, really good basketball," Dixie said, adding the odds are good that No. 1 –ranked Thomas More will advance to the semifinals. The Kentucky college features Sydney Moss, one of the top players in the country – regardless of Division. She scored a Division III-record 63 points in a game earlier this season.
The Capital Center holds about 2,300 people. The cost of a ticket is $12 per person (all ages). About 1,100 tickets are currently on sale online through Capital www.capital.edu/ncaad3semifinaltickets. Each of the four teams that advance to the semifinals will get an allotment of tickets for their officials and fans, and about 200 to 300 tickets will be available for purchase at the Capital Center on game day.
A lot has changed since Dixie began coaching at Capital 30 years ago. Then again, a lot has remained the same.
"I still love what I'm doing – the interaction with our student-athletes," she said. "So much has changed over the years, but the passion and drive of the students to succeed is still there and I have so much respect for them and want to help them grow and be successful when they leave here."
While 600-plus wins and a long list of championships are great, that's not what keeps Dixie going.
"I'm a teacher and I teach life skills," she said. "What I'm most proud of is that so many of my players have gone on and gotten advanced degrees and careers as teachers and in the medical profession and in so many other areas. That's what Division III basketball is all about."